How to develop a Direct Message strategy to connect with customers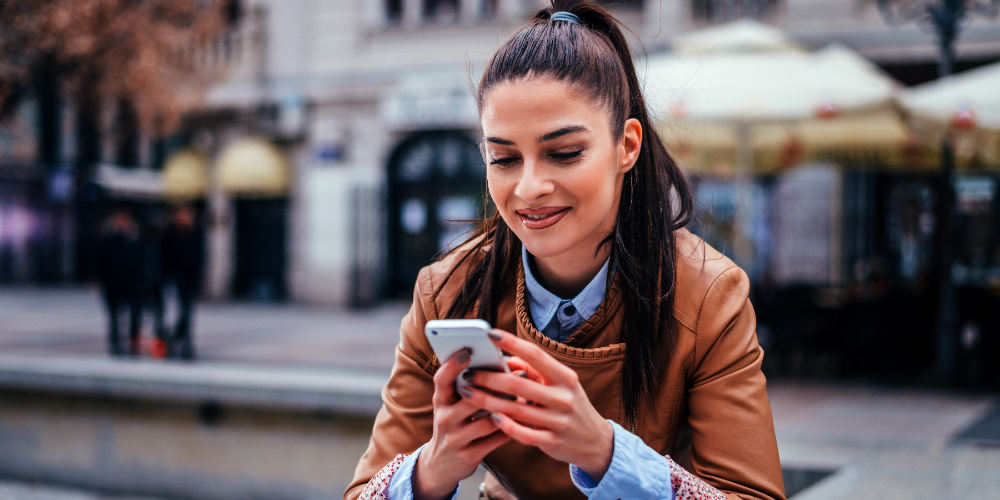 Building customer loyalty begins with building genuine connections with the people who interact with your brand. Besides face-to-face assistance in a physical store, there are few ways customers can personally connect with the brands.
An effective Direct Message strategy can bridge that gap and help you connect with customers on an individual basis by answering their specific questions and addressing their unique needs.
Here are a few things to keep in mind when building your Direct Message strategy.
Be approachable
Make sure your settings allow you to receive Direct Messages from anybody, including people you don't follow or who don't follow you. You'll be able to reach a larger audience, including prospective customers. Having a Message button on your profile not only tells your audience you're interested in having a conversation, it makes it easier for the conversation to begin.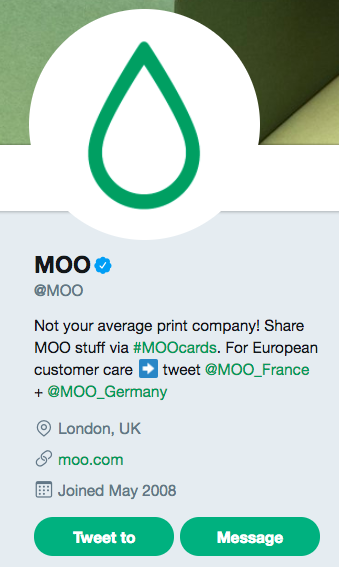 UK based print company @MOO has their DMs open which lets people know they are there to answer questions.
Start the conversation
Set up a welcome message so you can greet customers without forcing them to send the first message. Make it positive, helpful, and relevant. You can also set up quick replies to help guide customers with the best way to respond. That way, you can help people find solutions even faster.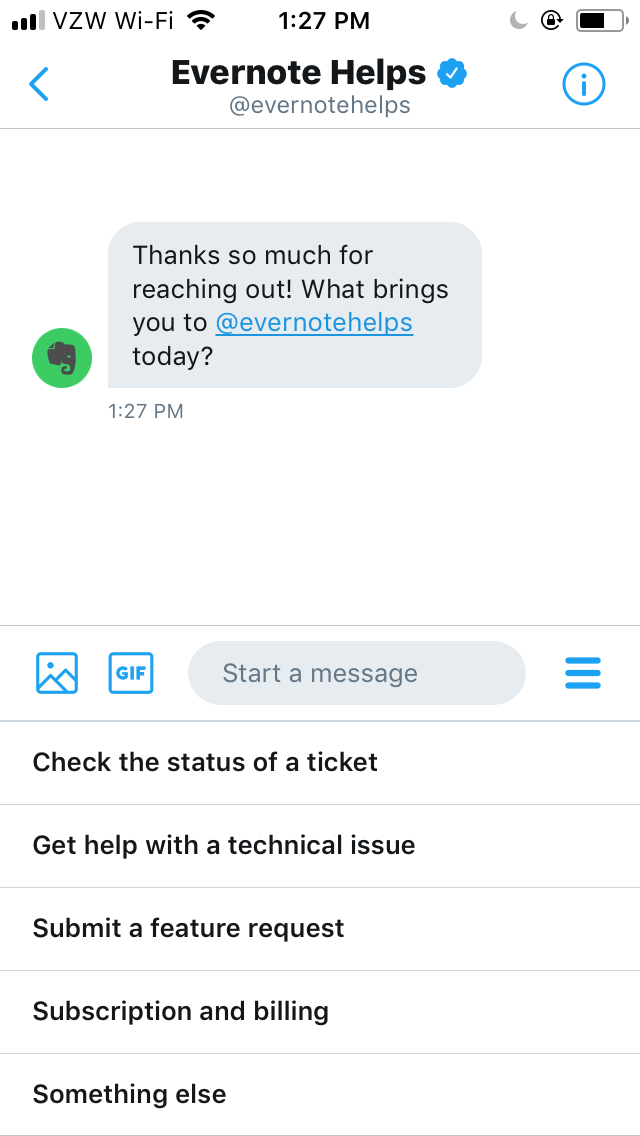 @evernotehelps has a helpful DM welcome message.
Don't leave people hanging
When you decide to incorporate Direct Messages into your strategy, make sure to check your inbox regularly. Customers are likely using a Direct Message because they're looking for a quick response. Again, setting up an automatic greeting message and quick replies can help solve problems, fast.
Go from public to private
When customers have a complaint or a personal question, suggest you take the conversation to Direct Message so negative experiences or personal information can be kept private. Make sure to always reply publicly that you will send them a Direct Message to help them resolve their issue. This shows other users that you are actually responding and aren't ignoring questions or complaints. It's also helpful to include your Direct Message link, so the user can immediately jump to a Direct Message from your reply.
Find appropriate resolutions
If a customer does have a concern or a complaint, resolve their problems as best as you can. A small token from your end is a great method to mend issues and build customer loyalty. If refunds or gifts aren't reasonable, remember that an apology goes a long way.
 
Whether you're looking for a savvy way to direct customer service, sales, or even consumer participation — Direct Messages are an easy, effective way to making real connections. You'll boost engagement, drive loyalty, and turn average customers into brand advocates.  

To keep up-to-date with other brand tips, follow us @TwitterBusiness.

Additional reading: