Ready to go?
Get started with Twitter Promote mode
Need help?
File a ticket to our Twitter Ads support team
Twitter Promote Mode help
Short on time? Twitter Promote Mode automates your brand marketing efforts for less than the price of a cup of coffee per day, enabling you to focus on creating your best Tweets.

It's an affordable, always-on promotion engine, so whether you're building your personal brand or a business, Twitter Promote Mode grows your influence by automatically amplifying your message to a larger interested audience. For a set monthly fee, your Tweets and account will automatically be promoted. Reach up to 30,000 additional people and add an average of 30 new followers each month.
Promote Mode works best for people who Tweet about their brand or product and want an automated, always-on advertising solution.
Each day, your first ten Tweets (that pass our quality filter) will be added to a Promoted Tweets campaign that targets your selected audience. Tweets that are promoted become Twitter Ads and appear with a small "Promoted" badge. Your Retweets, Quote Tweets, or replies will not be promoted.
Typically, your first few Tweets of the day will receive the most promotion. Simply promote your brand as you normally do — Tweeting updates, links, and media that you want your target audience to see. Promote Mode does the rest.
Promote Mode will also run a Promoted Account campaign which will increase your reach, attract visitors to your profile, and add followers interested in your brand. On average, accounts will reach 30,000 additional people and add 30 followers each month. Your performance may vary based on factors such as your account type, your targeting selection, and the type and frequency of your Tweets. In the future, higher priced tiers will be available for larger accounts that want to focus on reaching even more people.
Ready to get started? Sign up now.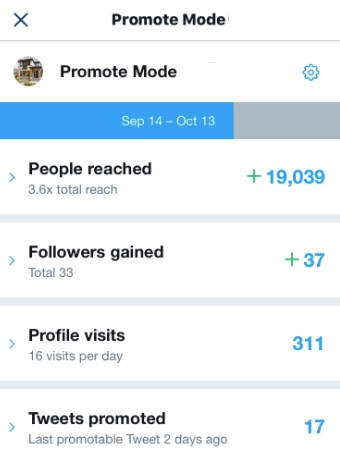 Find the prices for Twitter Promote mode below: 
99 USD per month
9900 JPY per month

79 GBP per month, plus any applicable taxes

Please note that after entering payment details and checking the Terms of Service box, you will be prompted to click "Yes" and then "Proceed," after which you are agreeing to be charged the full price of the first month's promotion.
You will be billed the day you sign up for Promote mode, then again, every 30 days. Your billing renewal date is displayed under the "Billing" menu when you tap the gear icon. You can download invoices anytime by visiting https://ads.twitter.com/subscriptions/billing on your desktop.

Accounts that promote prohibited or restricted goods or services, as identified by our Twitter Ads Policies, are not eligible to participate in this program.

Twitter Promote Mode FAQs